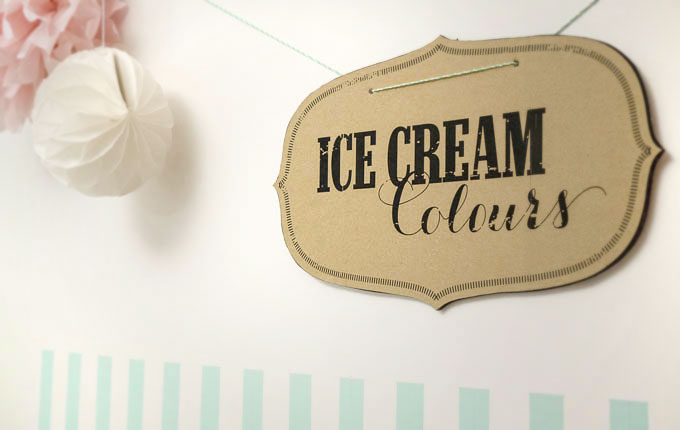 Der Sommer ist da! Und ich stelle euch heute unsere neuen Eiscreme-Farben vor:
Bäckergarn in wunderbaren Pastellfarben, passend zum Beispiel zu einem nostalgischen Eisbuffet mit Süßigkeiten, die Kindheitserinnerungen wecken.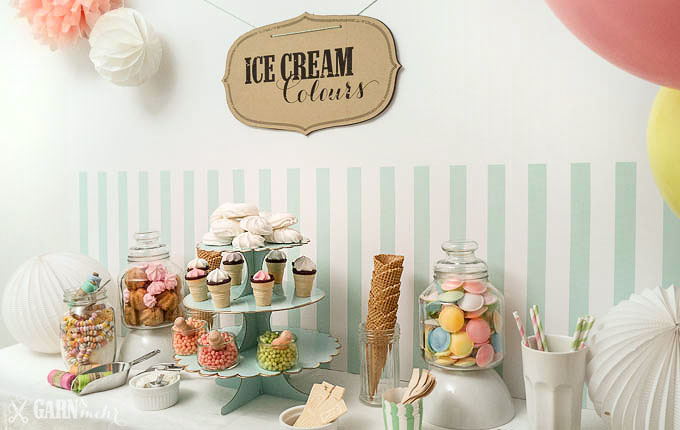 Süße Ketten, bunter Puffreis, pastellfarbene Brause-Ufos … dekoriert mit Papierstrohhalmen, einer Etagere in Mint von Miss Etoile (aus Karton!), kleinen Zitronen-Gugeln, Baisers und Eiswaffeln in allen Größen. Und natürlich mit Seidenpapier Pom Poms, Wabenbällen, Papierlaternen und Ballons.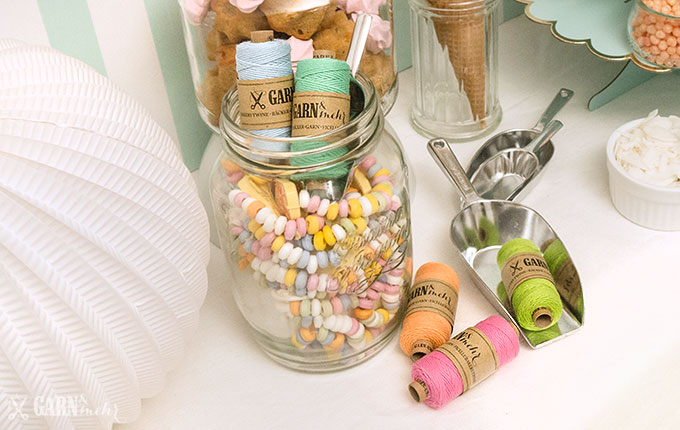 Zu den klassischen zweifarbigen Garnfarben mit Weiß gesellen sich jetzt auch noch die passenden einfarbigen Varianten in Rosa, Hellblau und Maigrün – und das Pfirsich und Mintgrün, das ich euch schon vorgestellt habe. Für Dekorationen, Geschenke, Girlanden, Ballons, aber auch sehr schön zum Armbänderknüpfen, zum Sticken, Häkeln, für Quasten und viele andere Ideen geeignet.
In diesem Sinne: genießt die herrlichen Sommertage!
Und ich würde mich freuen, zu erfahren:
Welche Süßigkeiten erinnern euch besonders an eure Kindheit und an den Sommer?
Summer is here! Today I'm going to introduce you to our new ice-cream colours:
bakers twine in wonderful pastels, fitting for example pefectly to a nostalgic ice-cream parlour party with candy of our childhood.
Candy necklaces, colourful crispy puffed rice, flying saucers with sherbet in pastel colours … decorated with paper straws and a paper cake stand in mint from Miss Etoile, mini lemon bundt cakes, meringues and ice-cream wafers in all sizes. And not to forget tissue paper pom poms, honeycomb tissue balls, paper lanterns and balloons.
Additional to our classic two-coloured bakers twines with white, we also added these single-coloured twines in rose, light blue and may green – fitting to the peach and mint one, you already know.
For Decoration, present packaging, garlands and balloons, but also for bracelets, stitching, crochet, tassel making and many, many more DIY ideas.

Enjoy these wonderful sunny days!
And maybe you want to write me what sweets remind you of your childhood and the summer?